THE GLACIERS
There are two huge glaciers "floating" down almost to the sea level in the west coast of New Zealand: Franz Joseph and Fox. Interesting thing is that in contrary to all other glaciers in the world, these to are expanding with a pace of 40-50 cm a day. Unfortunately the weather in Franz Joseph was completely un photogenic, so there are no pictures of this impressive glacier. Anyway I was extremely lucky as the following day weather miraculously cleared and I could enjoy incredible photographic enjoyment at the famous Matheson Lake, and later, managed to walk to the head of Fox Glacier.

| | |
| --- | --- |
| | |
| REF: NZ/175 | REF: NZ/176 |
| | |
| --- | --- |
| | |
| REF: NZ/177 | REF: NZ/178 |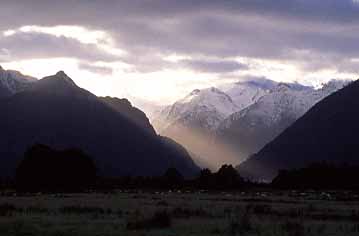 REF: NZ/179
Lake Matheson
Lake Matheson is one of the most famous and probably the most photographic place in New Zealand. Many photographers have to wait for several days to take their favorite pictures of Mt. Cook, Mt. Tasman and other snow covered mountains reflecting in usually still in the morning waters of the lake. The most famous lookout place was named very appropriately: "The View of the Views".

| | |
| --- | --- |
| | |
| REF: NZ/180 | REF: NZ/181 |
| The Pier View | Mt. Tasman |
| | |
| --- | --- |
| | |
| REF: NZ/182 | REF: NZ/183 |
| | |
| | |
| --- | --- |
| | |
| REF: NZ/184 | REF: NZ/185 |
More pictures from New Zealand
New Zealand - Table of Contents

"Incredible Landscape of New Zealand" - Flash Presentation



© Jacek Piwowarczyk, New Zealand 2002