LOMBOK
Actually, I did not see much on Lombok - I based myself in the coast town of Ampenan which together with Mataram, Sweta and Cakranegara is sometimes considered as one city. Apart from resting I visited some temples in the town and its vicinity as well as traditional Sasak Sage village and beach in Kuta. Unfortunately I did not have enough time to climb famous Gunung Rinjiani - volcano and the highest mountain in entire Nusa Tenegara region.
Even so, the views are stunning, and are a wonderful juxtaposition against sights like the ocean from the window of a
blackpool hotel
in England, or the Taj Mahal at dawn. Nature is at its best, its most honest here, and I want to share it with you.
REF: IND/051

REF: IND/052

Sunset at the beach in Ampenan
REF: IND/052

REF: IND/053

Balinese "Everest" Gunung Agung seen from Ampenan beach at sunset
| | |
| --- | --- |
| | |
| REF: IND/054 | REF: IND/055 |
REF: IND/056

REF: IND/057

Sage was a traditional Sasak village, relatively unchanged, where poeple still lived in customary houses and were engaged in indigenous cratfwork.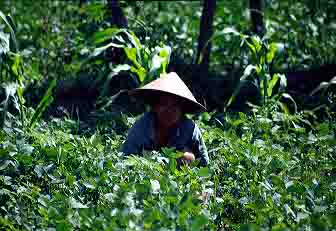 REF: IND/058
More pictures from Indonesia

Indonesia - Table of Contents

© Jacek Piwowarczyk, Indonesia 1993