INDONESIA

Indonesia
is a large archipelago consisting of more than 3000 islands. All of them are incredibly beautiful and very diverse ethnically and geographically. I had a chance to visit Indonesia twice - in 1988 when I traveled through Java and Bali and again in 1993 visiting Flores, Komodo, Sumbawa, Lombok and Bali. All the pictures on this website were taken during the second trip.
FLORES ISLAND

Flores is one of the most interesting islands of Indonesia and in the same time very rarely visited by tourists. There were no more than a dozen of foreigners on board of my plane from Denpasar to Maumere. Despite its unpopularity the island is very beautiful. It has a very diverse volcanic landscape with many volcanoes still active, dense, green tropical vegetation and particularly interesting culture with many ethnic minorities, especially in centrally located district of Bajawa, still cultivating their traditional way of life.Flores is one of the most seismically active areas on the planet. I found out about it myself. Just before dawn, during my second night in Maumere, I heard a suspicious noise and the barking of the dog outside my room. A little bit later I felt distinctive shocks and furniture began to move. Everything lasted only a few seconds but really scared me. It was an earthquake! I jumped out of my bed and ran out to the garden, but everything was over.
| | |
| --- | --- |
| | |
| REF: IND/001 | REF: IND/002 |
| People prey in fromt of the statue of Jesus in Maumere - the capital of Flores, which is on of the Christian enclaves in Indonesia. In December 1992 the town was largely destoyed by an earthquake and many buildings were still not rebuilt at that time. | |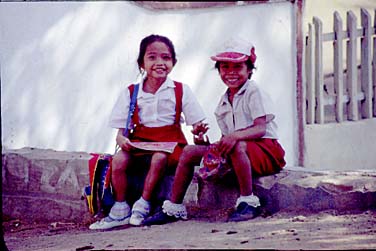 REF: IND/003
School kind seemef to be still happy despite the tragedy.
REF: IND/004

REF: HIN/005

The bus station was Maumere was not very impressive. It was just a parking lot and a small building with a shop selling food to passengers. All the buses travelling on Flores were actually 20-seat minibuses. Roads were narrow and cannot accommodate regular buses. I already had a ticket bus the bus named on it had not arrived. Many other vehicles had left already but my fellow passengers waited patiently, without worry, and said that the bus would eventually come. In fact it did, but almost fully packed with sacks of clothes. They filled the whole interior as well as the roof in several layers. Fortunately there was enough room for my new Dutch friends and myself but the journey was not expected to be comfortable. The road was narrow, bumpy and windy, making our journey uncomfortable as well as painstakingly slow. It was also incredibly beautiful! It wound like a giant snake with never-ending serpentine curves amongst tropical evergreen vegetation, climbing steep slopes of smoking volcanoes or descending to the bottoms of deep valleys with raging rivers. The stunning nature was dotted by small settlements, some of them destroyed by the earthquake.
REF: IND/006

REF: IND/007

Moni is a small village and its development owes to its advantageous location. It is mainly a starting point for Keli Mutu, a volcano, and the biggest tourist attraction on Flores. It is one of the most fascinating places in Indonesia, although not very popular, due to its remoteness. The village had also suffered during the last earthquake, a church, popular hotel and several houses were ruined. Residents of Moni fully understood a change given to them by nature and realised tourism could be very profitable. They quickly filled the gap in accommodations created after the earthquake. Small guesthouses called homestay offered cheap accommodation, mosquito nets, full board and tourist information about the region.
More pictures from Indonesia

Indonesia - Table of Contents

© Jacek Piwowarczyk, Indonesia 1993