JIUZHAIGOU
Jiuzhaigou scenic is without any doubts the most beautiful place in Sichuan Province if not in entire China. The extraordinary charm of Jiuzhaigou Valley is acknowledged by all those who have been there. People say if there existed fairyland in the world, that would be Jiuzhaigou. Literally it means - "Nine Villages Gorge" and covers the area of 720 sq. km. The valley has distinctive Y-letter shape and stretches on the altitude between 2000 and 4300 m. Jiuzhaigou is renowned for its spectacular landscape and vegetation. Its multicoloured - green, turquoise, blue and emerald lakes reflect snowy mountains, trees - green is summer and some red, yellow, brown, orange in autumn and blue sky - everything upside-down, majestic and stunning. Raging mountain rivers sometimes drop down as incredibly spectacular waterfalls some of them few hundred meters long and dozens of meters high.
Jiuzhaigou covers the Shuzheng Valley . Rize Valley and Zechawa Valley in the Minshan Mountain Range. Inhabited by Tibetans, the nine villages and alpine lakes, affectionately called "Ham", are like reflecting mirrors or crystal jade blocks inlaid in snow mountains and forests. At the end of Zechawa Valley is the Chang (Long) Lake and the end of Rize Valley are virgin forests.
The drop between the two valleys and Shuzheng Valley is over 1,000 meters, with 1 14 lakes lying downward in an echelon manner, on which arc 17 waterfalls, 11 rip currents and 5 travertine beaches, formulating alpine lake clusters and travertine spots that are rarely seen in China and even in the world.
Zechawa Valley
REF: CHN/031

The Long Lake (altitude 3,060m) located on the end of Zechawa Valley, it is in a U- shape and over 100 meters deep, of the highest altitude and widest surface of all Jiuzhaigou lakes. Its water appears ink blue, and peaks are snow-clad all the year around. Surrounded by verdant forests, it collects thawed water from high mountains.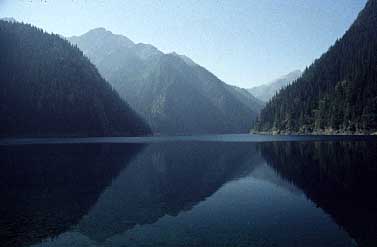 REF: CHN/032
REF: CHN/033

REF: CHN/034

Wucai (Five-coloured) Lake. Of all the jiuzhaigou lakes,it is small but most graceful, noted for its bright and distinct colors.Cobbles on the bottom shape in prisms of clearly visible chromatism between texture and water plants. Under the shining sun,the water forever appears dark blue, glittering and verdant

.

ure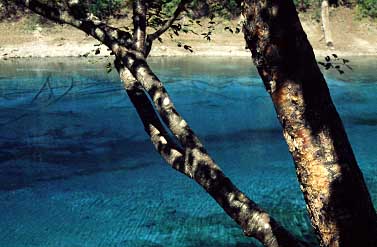 REF: CHN/034
More pictures from China

China - Table of Contents



© Jacek Piwowarczyk, China, 1997-1998