CHINA
JIUZHAIGOU AND HUANGLONG
Jiuzhaigou and Huanglong are considered to be one of the most beautiful scenic parks is China. Both are located in the remote, northern part of Sichuan Province. Parks are extremely popular during summer months when are virtually flooded by herds of mainly Chinese tourists. The road connecting Chengdu and Jiuzhaigo has been recently upgraded and the journey, although possible in one long day is usually takes two days and is extremely picturesque. Huanglong is only accessible from May till late autumn (depends on the snow). Both areas have been granted Worls Heritage status.
HUANGLONG
Huanglong National Natural Conservation Area is often called "The fabulous world on Earth". It stretches along the yellow dragon-like Maishan river, creating series of colourfull ponds and waterfalls. Hundreds of emerald and turquoise small ponds and waterfalls form unbelievable travertine spectacle. The winding and scenic road leading to Huanglong passes through 4200 metres high pass which provides beautiful view over surrounding dolomite mountains, deep valleys and snow-covered cone of Xuebaoding (5588 m).
| | |
| --- | --- |
| | |
| REF: CHN/001 | REF: CHN/002 |
REF: CHN/004

Xuebaoding Mountain " means the "sun in summer and day in winter" in Tibetan language, or refers to the "Trumpet Shell Mountain in the East." With the highest elevation of 5,588m, it is the summit of the Minshan Mountain Range.
REF: CHN/006

The road to Huanglong is narrow and accidents like this are not unusual.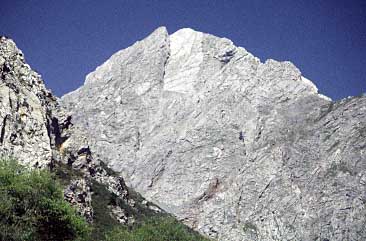 REF: CHN/007
More pictures from China

China - Table of Contents

© Jacek Piwowarczyk, China, 1997-1998